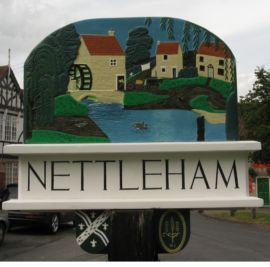 Nettleham is a large attractive village located approximately four miles north of the City of Lincoln. The village has a population of about 4,000 and sits within the West Lindsey District Council area.
The centre of the village is a Conservation Area with many old stone properties dating back to the 17th - 19th centuries and All Saints Church dating back to the 11th Century. Near the village centre is a heritage amenity site. The site dates back 1000 years and was the location of the original Nettleham Manor House, which over the years was converted in to the Bishop of Lincolns Palace.
On the village green a colourful village sign displays designs developed by local children along with scenes of Nettleham's past. The Beck runs through the centre of the village and has beautiful waterside walks that attract many a photographer and artist.
Nettleham has a range of shops, cafés and take-aways. These include Co-op convenience store, a Post Office; a pharmacy, an optician's, hairdressers, beauticians, and 3 Public Houses. Other amenities include All Saints Church C of E, a Methodist Chapel, a Health Centre, plus primary and infant schools.
Village facilities also include a Village Hall and the council's beautifully restored old stone village school both with rooms available to hire. At Mulsanne Park the village has a 10 acre sports field and pavilion Mulsanne Park. In addition to the tennis courts, football ground and cricket pitch it includes multiuse games area and mini skate park, and is home to Nettleham cricket, football, and tennis clubs. Nettleham is also the location of the Lincoln rugby club.
Nettleham's Community Hub and Library is run by dedicated volunteers. Further information about the range of activities, sports clubs, children's play areas, and interest groups within the village can be found in the 'things to do in Nettleham' section.
The village is twinned with Mulsanne in France and holds annual twinning meetings with Mulsanne residents.
At the edge of the village is the Lincolnshire police and Fire HQ as well as a new enterprise park with a range of light and service industries providing local employment opportunities
The village is well served by public transport with regular bus services, both into the city of Lincoln and further afield.
Despite its relatively large size, the village deservedly has a reputation for being a very friendly and safe place in which to live, with a strong community spirit.